The turbine, called O2, will be installed in the Fall of Warness where Orbital has an existing berth, and a grid connection with the Orkney-based European Marine Energy Centre (EMEC).
O2 has been developed from Orbital's earlier SR2000, and "will become the world's most powerful tidal turbine when it enters operation in 2020 at EMEC," said Orbital.
Rather than being attached solidly to the seabed, O2, like SR2000, is based around a tube-like ship that is permanently anchored through chains.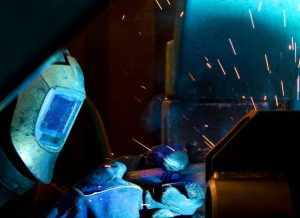 Welding at Faun Trackway
"The manufacture of the anchor structures and bespoke mooring connections will utilise our design-for-manufacture, engineering and production," said Faun engineering manager Gareth Williams. "Components will be manufactured, tested, inspected and coated to DNV   [marine accreditation] standards to ensure the components stand the test of time."
Whilst these anchors are destined for Scottish waters, Orbital is also a berth holder at the Morlais tidal energy project venture off Anglesey.
In detail, O2's main body is a 73m long floating superstructure, supporting two 1MW turbines, each with a 20m diameter two blade turbine attached. The 600m2swept area allows 2MW to be delivered from tidal movement at 2.5m/s. "Orbital Marine believes that, when launched in 2020, it will be the most powerful tidal generating platform in the world," said the firm.
360° blade pitch control on O2 allows power to be extracted from both tidal directions – unlike SR2000 where the whole hull had to swing around when the tide changed direction. The pitch change mechanism has been designed to support larger blades on future turbines.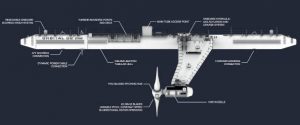 Hydraulic actuators allow the turbines to be swung to the surface for access. Compared with the SR2000 which needed at least 6m of water when being towed, O2 can float in as little as 3m – allowing smaller boats to tow it.
Also compared with RS2000, the steel structure of O2 is simplified to reduce fabrication costs suit it better to volume manufacturing.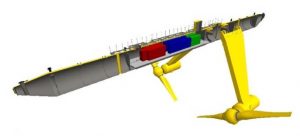 The development of the O2 from SR2000 was part-funded by the European Commission's Horizon2020 programme's FloTEC project – which brings together Orbital and project partners: ABB, Harland and Wolff Heavy Industries, Technology from Ideas, Eirecomposites, University College Cork, DP Energy, EDF Energy, SKF and EMEC.