Microsoft has developed a modular container-sized Azure data center with satellite connectivity to bring the cloud to remote areas.
The Azure Modular Datacenter can be optionally connected to satellite communications when terrestrial connectivity is not available.
Last year, Microsoft won the JEDI contract to provide most of the US military's cloud services in a deal worth as much as $10bn over 10 years (although it is currently delayed due to legal action by AWS), with modular Edge computing for the battlefield a major component. The company said that the MDC was already in early use with undisclosed defense organizations.
Microsoft is also a major contractor for oil and gas companies, including Exxon, Shell, and Halliburton – all of whom operate extensive Edge com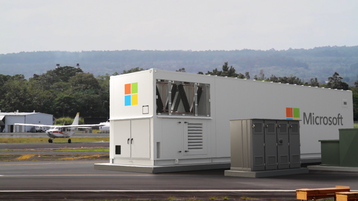 puting networks at their remote operations.
Azure global industry sovereign solutions GM Bill Karagounis added that the MDC "can give customers a path to migrate apps to Azure while still running these workloads on-premises with low-latency connections to their own data center. This provides a stepping stone for transforming workloads to the Azure API with the option of continuing to run these apps on-premises, or in public or sovereign clouds."
While the small facilities can be connected to local fiber networks like usual, they also include two 2.4m antennas for satellite communication. This can be used to augment or replace terrestrial connectivity, in areas where it is limited or non-existent.
"Around the world, there are significant cloud computing and storage needs in areas with adverse conditions, where low communication, disrupted network availability and limited access to specialized infrastructure would have previously prevented taking advantage of cloud computing," Karagounis said. "The MDC solves this by bringing Azure to these environments, providing data center scale compute resources closest to where they're needed."