MBDA, a European developer and manufacturer of missiles, plans to offer next generation air combat capabilities for Indian Navy's maritime superiority.
The Indian Navy on August 8 also issued requests to global vendors inviting their interest in supplying about 270 combat, 40 practice, 10 training, 6 dummy and 4 cut section medium range anti-ship missiles. Under the aegis of '
Make in India
, For the Indian Navy, MBDA is offering host of solutions:
Sea Ceptor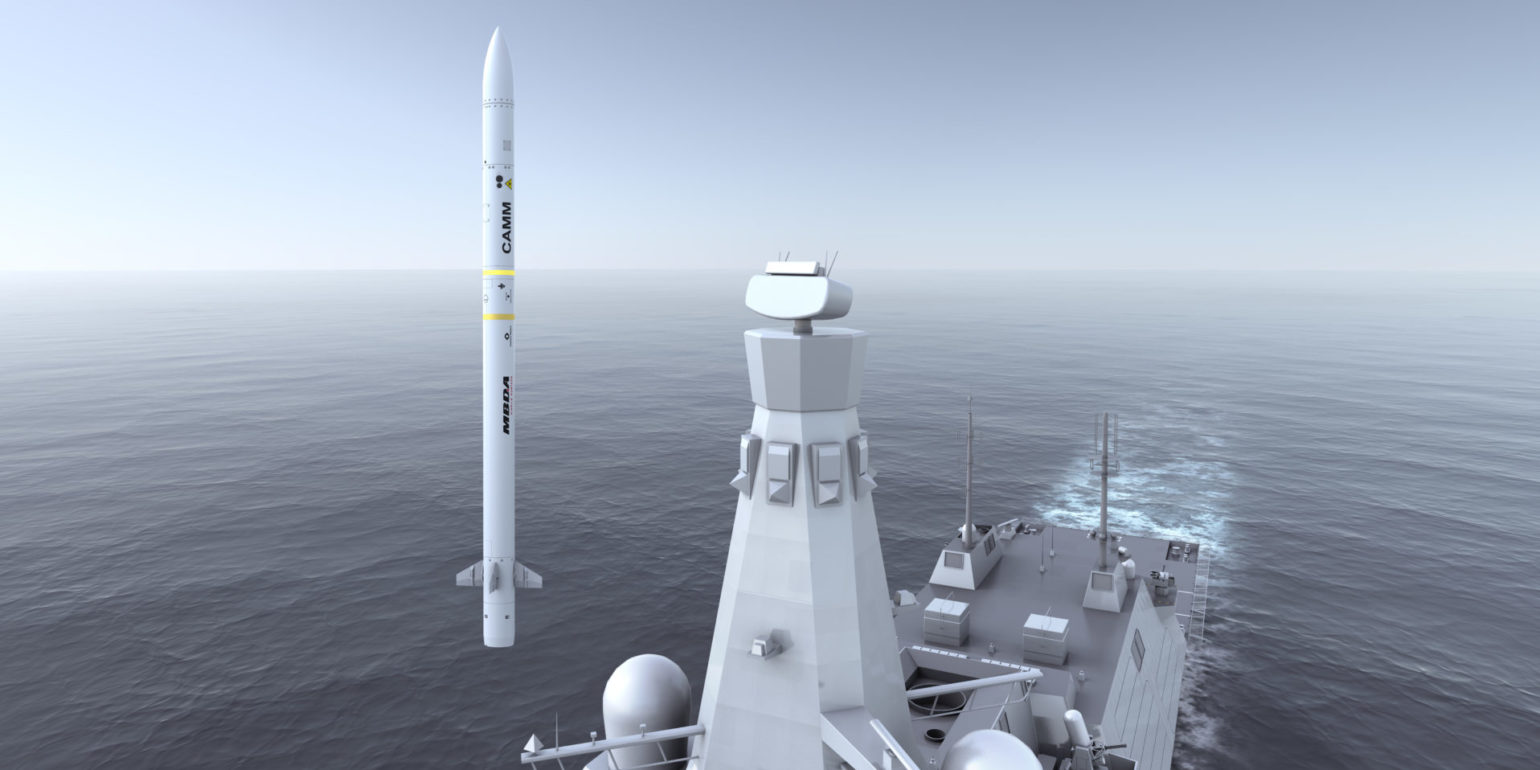 This is the next-generation, ship-based, all-weather, air defence weapon system. Through the use of new advanced technologies, Sea Ceptor provides complete protection against all known and projected air targets including saturation attacks across 360° simultaneously. Sea Ceptor utilises the CAMM missile that features a next generation all-weather RF-seeker, two-way data-link and soft-vertical launch system to provide a step-change in performance compared with previous generation systems. Sea Ceptor will protect both the host ship and high value units in the local area. The Weapon System has the capability to intercept and thereby neutralise the full range of current and future threats including combat aircraft and the new generation of supersonic anti-ship missiles.
EXOCET
This probably ranks as the best known anti-ship missile. It is known in India where the submarine variant, SM39, has been delivered to the Indian Navy to arm its Scorpene submarines (Project 75). The AM39 version can be launched from Maritime Patrol Aircraft, strike fighters such as the Rafale as well as medium to heavyweight helicopters. Features such as low signature, sea-skimming flight at very low altitudes, late seeker activation, enhanced target discrimination and Electronic counter-countermeasures (ECCM) combine to make this a redoubtable weapon indeed.
In its Block-2 Mod-2 latest evolution it is now fully compliant with the latest generation of aircraft platforms. The MM40 Block 3 variant within the EXOCET family is a 200+ km class weapon suitable for launch from ships or from coastal batteries. Already in service, this latest generation EXOCET features 3D waypoints, low sea-skimming flight profile and the ability to strike coastal land targets as well as ships.
MARTE
MARTE is a family of fixed and rotary wing and ship-launched anti-ship missile weapon systems designed to meet operational requirements in complex littoral environments and blue water scenarios. At Aero India 2019, MBDA is displaying MARTE ER, the latest addition to the family.
The high sub-sonic MARTE-ER is equipped with a turbo-jet engine giving it a range of well over 120 km, thus enabling it to engage enemy vessels well over the horizon. Other enhancements include an optimised terminal guidance system and 4D waypoints including altitude and time for simultaneous time on target attack. MARTE-ER offers rotary and fixed wing aircraft, ships and land based coastal defence systems a significant operational advantage.
NCM (Naval Cruise Missile)
This very long-range surface attack stand-off cruise missile is designed to attack deep into enemy territory. Given its range, it will provide navies and surface and sub-surface vessels with the ability to maintain a prolonged dissuasive force in theatre unlike an aircraft launched missile. Drawing on elements of the combat-proven SCALP/Storm Shadow and weighing some 1,400 kg with an overall length of around 6.50 m and a diameter of 0.5 m, NCM offers destructive power against key infrastructure targets. Maximum precision and minimum collateral damages are assured thanks to the weapon's guidance system which combines inertial guidance, terrain matching, and GPS with an imaging infrared seeker to achieve metric accuracy in the terminal phase. The missile has already been tested for both surface ship and submarine launch (vertically launched for the former and via the torpedo tubes for the latter with the submarine version housed in a special sea to air transition container). Surface ship operational capability was declared in May 2015 after a series of test firings had been successfully completed.
Conclusion
Anti-ship missiles currently deployed on large Indian Navy frigates and destroyers include the Indo-Russian BrahMos supersonic cruise missile as well as Russian-made Kh-35 and 3M-Klub anti-ship missile variants. The Indian Navy also uses American-made Harpoon anti-ship missiles on its submarines and on Boeing P-8I aircraft.
When asked about naval missile systems, Country Head, India, MBDA, Loïc Piedevache said, "MICA has already been selected by the export market for the naval and ground-based air defence role. In its naval variant, it is housed in a specially designed, compact launch canister that effectively manages the missile's efflux thus allowing for easy installation on new builds or refits."
He further said that, "There is definitely a need for an SRSAM capability within the Indian Navy and the MBDA is able to offer a couple of options, one of which is indeed VL MICA. We believe it is important to provide the customer with a choice when it comes to fulfilling a defence requirement. So, in the SRSAM domain we are also discussing a new addition to MBDA's portfolio, namely the Sea Ceptor system which deploys the CAMM missile and is currently being delivered to the UK's Royal Navy for its fleet of Type 23 destroyers.
MBDA's Common Anti-Air Modular Missile (CAMM) System
"Both options are equally capable of dealing with the diverse range of threats that navies face today. They are both vertically launched missiles to best deal with saturating attacks but the main difference lies in their respective launch technologies. VL-(Vertically Launched) MICA is hot launch while the CAMM uses soft launch technology which sees the missile ejected some distance into the air before the rocket motor ignites. Both missiles are under production but we would like to see these included in the range of activities that could be carried out by L&T MBDA Missile Systems Ltd, the joint venture that was set up between L&T and MBDA in February of this year," said Piedevache.
Since India is also acquiring a number of naval helicopters, Piedevache commented that, "MBDA has a full spectrum of missile systems to meet all the arming requirements of naval helicopters. For long-range requirements MBDA's famous and combat prove Exocet AM 39 missile is available, Marte ER provides excellent extended medium range capability, while Sea Venom/ ANL provides unrivalled fire-and forget or operator in the loop ability to engage multiple targets at short to medium ranges in open waters or even challenging littoral environments."
MBDA's anti-ship missile is also well integrated with French defence major Naval Group's Scorpene class submarines such as the INS Kalvari. MD, Naval Group in India, Bernard Buisson said, "INS Kalvari has already displayed good performance during the sea trials and one of the major achievements have been the successful firing of anti-ship missiles (MBDA's SM-39) and torpedoes already available with Indian Navy. So, to begin with, the submarine is combat ready once commissioned."