Australian data center company AirTrunk is building a hyperscale campus in Inzai, near Tokyo Japan.
TOK1 will initially be a 60MW project launched in late 2021. The campus will have 56,000 sq m (600,000 sq ft) of technical data hall space, 9,600 sq m (103,000 sq ft) of office and storage space, and 42 data halls.
When finished, the entirety of TOK1 will include seven buildings across more than 13 hectares (32 acres) of land on Inzai's Tokyo data center hub. The facility will come with a dedicated 66kV substation and is expected to have a power usage effectiveness (PUE) of 1.15.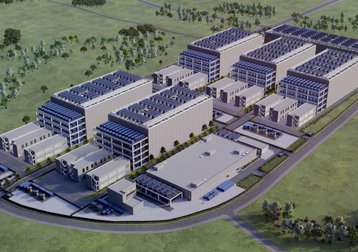 Set to be one of the largest independent data centers in Asia, TOK1 will be scalable to over 300MW. The data center is the company's sixth facility in the Asia-Pacific region and, if fully built out, will bring AirTrunk's total capacity to more than 750MW across five markets.
Japanese construction conglomerate Daiwa House Industry will build the campus and also take a stake in the project.
"Japan is a highly developed market with strong international connectivity, underpinning its position as a technology and data center hub in Asia," said AirTrunk's founder and CEO Robin Khuda.
"The rapid increase of cloud adoption in Japan will be enabled by critical infrastructure, including hyperscale data centers like TOK1."
AirTrunk's head of Japan, Nori Matsushita, added: "We look forward to working with our partners to deliver this enormous data center in Inzai."
TOK1 is the newest addition to AirTrunk's portfolio, which includes facilities in Sydney West (130MW), Melbourne (130MW), and projects underway in Sydney North (110MW), Singapore (60MW), and Hong Kong (20MW).
In January, a consortium led by Macquarie Infrastructure and Real Assets announced it was looking to acquire a stake in AirTrunk. The deal closed in April, with an 88 percent stake in AirTrunk going to Macquarie for around AUS $3bn ($2.1bn).